Let our captains and first mate be your expert guides on a fun-filled sailing adventure
Captain Kelly Callahan is passionate, qualified and fun to be around . . .
Captain Kelly Callahan knows the shores of Southwest Florida like the back of his hand. A native Floridian and sailing since the age of five, he has over 40 years of experience navigating the Florida waterways and the Gulf of Mexico. Captain Kelly's certification by the United States Coast Guard assures you of a safe, enjoyable and relaxing cruising experience.
Besides his sailing credentials and expertise, Captain Kelly has been in the service industry for many years. His warm, friendly nature and genuine interest in pleasing his customers have been key to building a thriving and successful business. Captain Kelly is known as a positive and fun guy with a great sense of humor. It is not uncommon for his customers to become his lifelong friends. He will put your mind at ease, entertain you with his jokes and show you a great time.
Meet Captain Art Monahan
Captain Art Monahan was born in Miami, Florida, but started sailing Opti's and Sunfish as a kid in the 1970's around St. Croix Yacht club, in US Virgin Islands. He sailed his Hobie beach cat around the Florida Keys and Key Biscayne throughout the high school years and went on to sail in the college circuit up and down the US East coast. His sailing career has taken him across the Atlantic three times, delivering boats to Bermuda, the Azores, Ireland, England and multiple countries in the Mediterranean. Settling into the Florida Gulf Coast 18 years ago, he has lived aboard a boat with his wife and two daughters and continues an active racing schedule whenever time allows. Any chance to share the natural beauty of his home waters remains one of his favorite activities.
Meet Captain Stephen Adney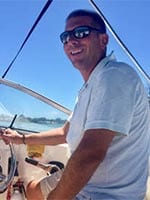 Captain Stephen has always had a passion for water.  Learning to sail at a young age he raced numerous small boats and has sailed in small lakes, Lake Michigan, as well as the Atlantic Ocean.   After obtaining his USCG 100 ton Captains License with a sailing and towing endorsement he began working in Chicago operating taxi and tour boats.  Captain Stephen recently completed American Sailing Association Instructor Courses.  He is qualified to teach Basic Keelboat, Basic Coastal Cruising, Bareboat Chartering, and Coastal Navigation.  As well as being a professional mariner, Captain Stephen is also a PADI Divemaster and has logged hundreds of dives around the world.  
Safety is important to Captain Stephen and he is always mindful of the well being of passengers.  He wants his passengers to have fun in a safe manner.  As a USCG licensed Captain he is subject to random drug testing and has a zero-tolerance policy to drugs on board.  
Captain Stephen wants you to join him for a sail.  You can be as involved or uninvolved as you wish.  He'd like you to take the helm and steer or trim the sails.  Let him know what you want to do and he'll do everything possible to accommodate you.  
Meet First Mate Sharon Callahan . . .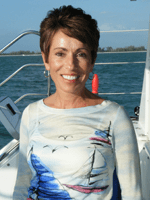 As First Mate, Sharon's job is to make sure your cruising experience is fun and memorable. Along with booking reservations for our cruises, she is running the business end of Cool Beans Cruises. Her favorite part of her job is coming out for an occasional sail to meet our wonderful guests. Sharon is also a service oriented individual with 30 years experience in the commercial real estate industry. Along with Captain Kelly, Sharon has the natural ability to make you feel welcome and at ease.
You can be sure that when you leave your cruise on "Cool Beans," you will be back to sail with us again soon. Book your private Naples and Marco Island Florida cruise today.