Who We Are
Our top rated captains and first mates are your expert guides on fun-filled sailing adventures
Captain Kelly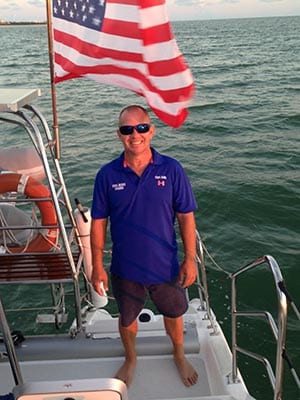 Captain Kelly Callahan knows the shores of Southwest Florida like the back of his hand. A native Floridian and sailing since the age of five, he has over 40 years of experience navigating the Florida waterways and the Gulf of Mexico. Captain Kelly's certification by the United States Coast Guard assures you of a safe, enjoyable and relaxing cruising experience.
Besides his sailing credentials and expertise, Captain Kelly has been in the service industry for many years. His warm, friendly nature and genuine interest in pleasing his customers have been key to building a thriving and successful business. Captain Kelly is known as a positive and fun guy with a great sense of humor. It is not uncommon for his customers to become his lifelong friends. He will put your mind at ease, entertain you with his jokes and show you a great time.
Captain Stephen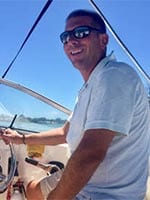 Captain Stephen Adney has always had a passion for water. Learning to sail at a young age he raced numerous small boats and has sailed in small lakes, Lake Michigan, as well as the Atlantic Ocean.   After obtaining his USCG 100 ton Captains License with a sailing and towing endorsement he began working in Chicago operating taxi and tour boats.  Captain Stephen recently completed American Sailing Association Instructor Courses.  He is qualified to teach Basic Keelboat, Basic Coastal Cruising, Bareboat Chartering, and Coastal Navigation.  As well as being a professional mariner, Captain Stephen is also a PADI Divemaster and has logged hundreds of dives around the world.
Safety is important to Captain Stephen and he is always mindful of the well being of passengers.  He wants his passengers to have fun in a safe manner.  As a USCG licensed Captain he is subject to random drug testing and has a zero-tolerance policy to drugs on board.
Captain Stephen wants you to join him for a sail. You can be as involved or uninvolved as you wish.  He'd like you to take the helm and steer or trim the sails.  Let him know what you want to do and he'll do everything possible to accommodate you.  
Captain Dave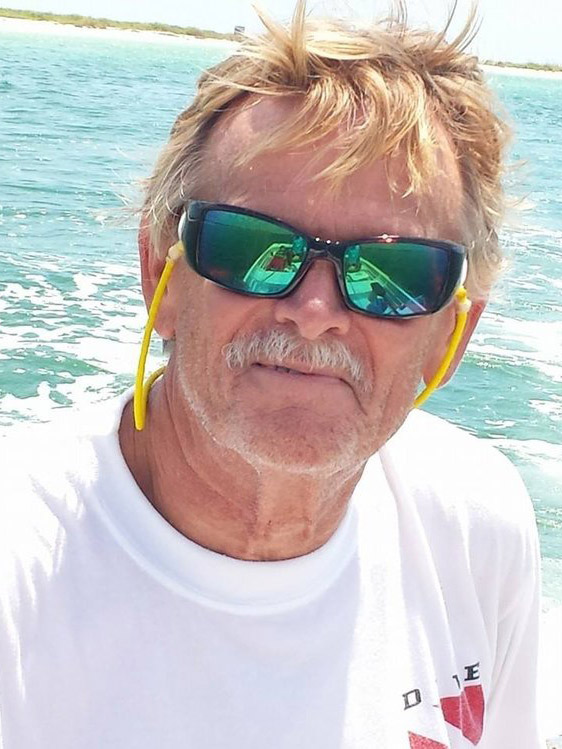 Captain Dave Durham grew up in Kentucky and has always enjoyed fishing, boating and water skiing. He spent most of his adult career as a banker, graduating from the University of Kentucky and the Kentucky school of banking. Dave eventually relocated to South Florida, starting a management placement company based in downtown Naples. He has a passion for photography, the outdoors, and most of all the ocean. He has lived in Florida for 37 years and has navigated the water's from Tampa Bay to Key West for all of them. Dave has spent the last 17 years living on the beautiful Isles of Capri and refurbishing his 37-foot sailboat. He enjoys taking guests out, showing them the beautiful waters, wildlife and ecosystem of the Naples, Marco Island, and the Ten Thousand Islands.
"It just never gets old seeing the smiles on the faces of the young as well as the older guest when a pod of dolphin play in our wake, or a stingray breaches the surface of the water, or a friendly sea turtle passes by. It is truly fun sharing these experiences with our guests." 
Capt. Dave holds a USCG Master Captain license and is CPR and First Aid certified.
Captain Jerry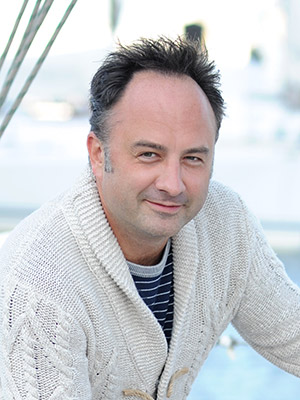 Captain Jerry Beno got the boat bug at an early age, having some of his best childhood memories on his uncle's boats in Michigan. He bought his first Sea Ray powerboat at age 20, and has owned a Hunter sailboat and two award winning antique wooden boats. He became an avid sailor and bareboat charter captain in Lake Michigan, Chicago, taking sailing trips to Michigan, Wisconsin, the Bahamas, and many charter trips through the Chicago River, Navy Pier, and along the lovely Chicago skyline. After relocating to Florida, he has since created memorable experiences with hundreds of guests on charters in the Florida Gulf coast throughout Naples, Fort Meyers, Marco Island, and the Isles of Capri. He has a good pulse on his charter groups, recognizing social cues to ensure he is providing the best experience according to the mood of the group. He's very friendly and communicative on how to tailor the boat trip to your interests- whether touring the gorgeous mansions in Naples to the natural preserve mangrove islands near Marco Island. Most guests have become friends with Captain Jerry and wish they could sail longer!
Captain Benjamin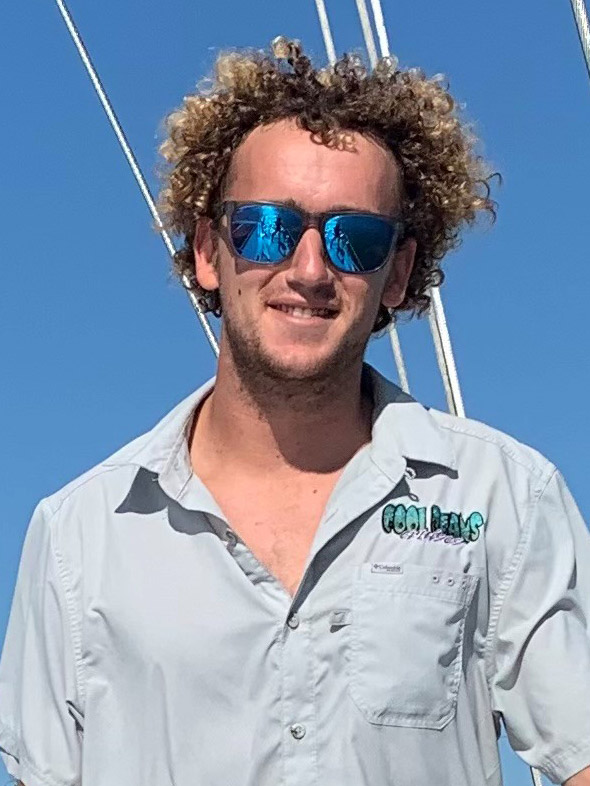 Captain Benjamin Avery will ensure your experience makes you feel like a real local as he tells you about this beautiful area of SW Florida. After moving to Naples from his home town in North Carolina, Captain Benjamin made it a point to seek out the hidden gems of beaches along our glorious coast. Here he discovered his passion for life on the water. Captain Benjamin's enthusiasm spreads like a wildfire, making every guest fall in love with the water the same way he did. With 6+ years of experience, Captain Benjamin provides an entertaining cruise that not only guarantees guests feeling safe, but leaves them with beaming smiles from ear to ear!
Captain Patrick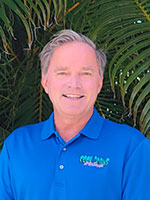 Captain Patrick Gallagher has been an avid sailor since 1970. His first sailing on the Great Lakes was so fulfilling that he has continued sailing all over the world. Recently he captained sailing catamarans in Greece, Croatia, BVI and New York City. In March, he made a nonstop 3902 nautical mile delivery of a 114 foot sailing yacht from Antigua to Spain.
As an avid sailboat racer, he owned and campaigned a Star Boat in: Tampa Bay, Gulf of Mexico, Mobile AL, Annapolis, West River, Eastern Shore of Chesapeake, and Rockport MA.
He has a USCG 100 Ton Master captain license, and an International Proficiency Certificate; additionally certified in CPR and First aid.
Captain Patrick has been a certified sailing instructor from the American Sailing Association since 1986. Recently he served as the lead sailing instructor at City Island Yacht Club in New York City. He has earned American Red Cross Advanced Lifesaving and Water Safety Instructor certifications as well as PADI Advanced Open water dive certificates.
He is very excited to help people enjoy nautical experiences in the beautiful waters around Marco Island. On a community service level, he is proud to have been recognized by the United Way as the Tampa Bay Area "Big Brother of the Year".
Captain Patrick earned his Bachelors degree from St. Leo University and his MBA from St. Cloud State University.
Captain Cedric
Captain Cedric Davis's passion for the Seas and Nature began in his birthplace of South Africa and he brought this passion with him to Southwest Florida 30 years ago.
For several years Cedric owned his own ecological boat tours business, Fantasea Boat Tours, as well as the head Captain on the Marco Island Princess prior to joining to Cool Beans Cruises. He holds a Coast Guard , 100 Ton Master License, as well a certified n CPR and First Aid. The fun continues as Captain Cedric details the nature and beauty that surround you on our Private Pontoon Excursion.
Sit back and enjoy new memories in Paradise. Your first excursion with Captain Cedric will not be your last.
Captain Margot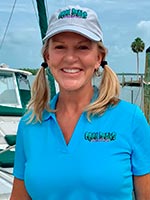 Captain Margot Puleri is an Isles of Capri resident who is often seen kayaking, paddle boarding, jet skiing and boating in search of local wildlife encounters. As a retired owner/publisher of magazines, she was stuck on a computer or running around town in traffic for over 20 years. Margot now enjoys and appreciates being on or near the beautiful Gulf waters. She has volunteered at the Southwest Wildlife Conservancy helping care for injured wildlife and is often out on her kayak cleaning up trash and fishing line from the mangroves and beaches.
Margot has been captaining boats for over 20 years in Ft. Lauderdale and Isles of Capri, but it was never a job as it was for family and friends. One of the first things she accomplished after exiting her publishing career was to get her Captain's license. Now, Margot says working as a captain for Cool Beans, entertaining guests and sharing her passion for our area's wildlife and conservation is a dream come true.
First Mate Sharon Callahan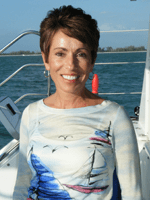 As First Mate, Sharon's job is to make sure your cruising experience is fun and memorable. Along with booking reservations for our cruises, she is running the business end of Cool Beans Cruises. Her favorite part of her job is coming out for an occasional sail to meet our wonderful guests. Sharon is also a service oriented individual with 30 years experience in the commercial real estate industry. Along with Captain Kelly, Sharon has the natural ability to make you feel welcome and at ease.
You can be sure that when you leave your cruise on "Cool Beans," you will be back to sail with us again soon. Book your private Naples and Marco Island Florida cruise today.